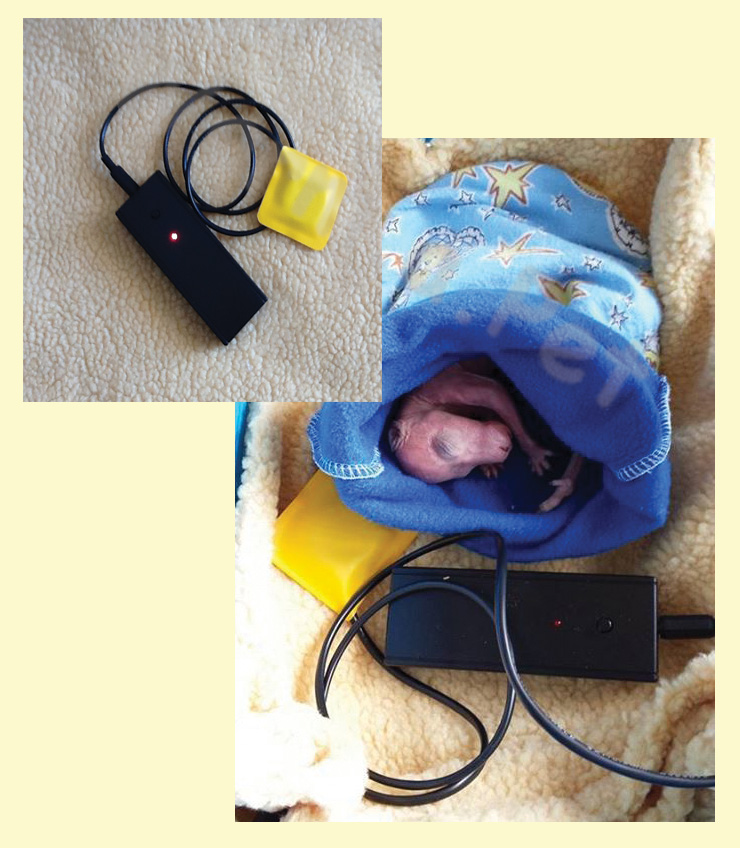 Black Wallaby - Male - 753gm
Found on road out of pouch. Mothers body close by. Joey suffering hypothermia, also wet as it had rained during the night. Dehydration noted at approximately 10%. Minor cuts/grazes. Rapid heart rate and noisy breathing indicating probable chest (lung) infection.
Joey placed onto your Small Deluxe Flat Heat Pad once pad began to warm. Set on full 12v. I used the flat pad as I had great success earlier in the year with a 489gm pink wallaby with major trauma to his lower back. I had not wanted him in the preferred "horse-shoe" shape due to the injury so with great success used the noted pad first in a "rescue" basket, then later in a larger well padded basket.
The wallaby took several hours to feel externally warm (3hrs) and twice that before he had warmed through so mouth and rectum felt warm when touched/felt. Heart rate was still rapid so introduced the Heartbeat Simulator. Within a short time, the heart rate had reduced, shortly after he willingly suckled a bottle of formula, prior to this his distress was evident with fluids needing to be given sub-cutaneously.
I have dealt with many macropod joeys over the past 25+ years and am confident the simulator assisted with the stress.
I placed the pad between the inner and outer pouch with the "beat" feeling on the wallabys body - he could move if wanted.
~ Brenda